Monitoring Solr with LucidGaze

As a professional DBA I'm always interested in monitoring systems. I have to know what's going on with my systems. Even in a world with automatic scaling strategies and automatic tuning humans have to be in the loop. Let's face it, sometimes automatic things don't work. Worse yet they sometimes automatically do what you said, not what you meant:)
As I've been moving more of my read-only data out of traditional relational databases and into highly scalable, simpler document-oriented systems like Solr I've been keeping an eye out for monitoring tools. Specially for Solr I found LucidGaze by Lucid Imagination, a Lucene/Solr specialty shop.
What is LucidGaze?
LucidGaze is essentially the combination of a Solr request handler and a web application that sits in your servlet container. The request handler gathers and stores information about other handlers in the Solr instance and the web app provides the administrator with visualization capabilities.
It's downloadable free of charge from Lucid's website.
Installation
The readme enclosed with LucidGaze does a fine job of getting you up and running so I won't provide step-by-step instructions here. Suffice it to say that it's just copying some jar's into your Solr install and servlet container, then configuring the request handler in solrconfig.xml.
Configuration
After a service restart visit the gaze web application with a url like http://localhost:8080/gaze/index.html and you can configure it to provide visualization for the Solr instance you deployed LucidGaze into by entering its URL and selecting a time retention.

You can then select which handlers in the Solr instance you want to monitor.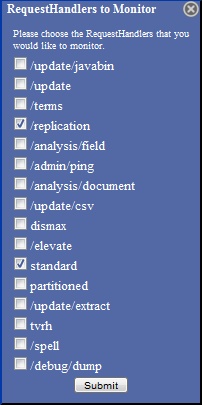 Then sit back, relax and let LucidGaze collect metrics.
Visualization
With the configuration out of the way and some metrics collected you can view graphs of the activity in the web application.
Overview - the main entry point is an overview of all selected handlers with graphs in requests/sec and milliseconds/request.

Drilldown - after clicking on a graph a detail graph is displayed that allows you to adjust the time dimension.
A few information screens are also provided.
System Info - a comprehensive system info dialog is available

Index Info - the index info dialog displays statistics about the index and its schema
Conclusion
As I lean more and more on Solr it's becoming increasingly important that I understand the load on a given system at a moments notice. LucidGaze certainly seems to help me along the way to that goal.
Note that Lucid Imagination also has a version for LucidGaze for plain-old Lucene, and a certified Solr distribution named LucidWorks which contains LucidGaze.
Sun Feb 21 2010 21:02:00 GMT+0000 (UTC)